Sally Cornan, Director of Daily English
English

Studied at University Surrey, Strawberry Hill

Diploma in teaching English

Finalist in the 'Services' Category in 2015, Languedoc Roussillon

Mother of 4 children
Work history: 
Reed Executive Plc.
Sector RECRUITMENT and TRAINING

Johnson & Johnson American Multinational
Sector HEALTH

TOURISM AND HOLIDAY ORGANISATION

Amazon US
Sector COMMUNICATION

Has offered English immersion homestays as part of a host family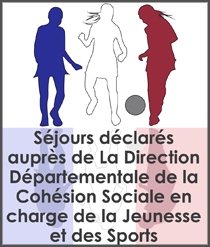 Why choose Daily English?
More than 7 years experience in tourism and organising holidays
More than 11 years experience in recruitment and training
Our homestays were the subject of an inspection in 2015 by the supervisory authority DDCS de Gironde which showed that all regulatory requirements were met and that children were accommodated in good safety conditions, both physical and emotional
Insurance for selling or organising tours and homestays in line with the tourism industry requirements

Our customers recommend us:
"We congratulate you for the professionalism of your advice and your follow-up"  (Nous tenons à vous féliciter de votre professionnalisme pour  les conseils et le suivi du dossier.)
"Tania and Blair's family is great, going beyond the initial contract, they did plenty to find activities for our children, all with kindness and attention.  They are very open and very generous people !!!!"  (La famille de Tania et Blair est géniale, au delà du contrat de départ, ils ont fait découvrir plein d'activités  à notre enfant, et tout cela avec gentillesse et une grande attention. Ce sont des gens très ouverts et très généreux !!!!)
"We will not hesitate to pass your details to other people interested (in your homestays) for their children" (Nous n'hésiterons pas à transmettre vos coordonnées  aux personnes intéressées pour leurs enfants)
Florence and Pierre S, parents of Marion, age 14 26/7/2015
"We appreciate the seriousness of your organisation" (Nous vous remercions du sérieux de votre société)
Mr G, father of Emma, age 16 29/4/2015
"We thank the families who were charming and who lived up to our expectations and we thank you especially for selecting them and for the excellent organisation of the holidays.  We have talked about Daily English a lot and I have given your details to several of our friends"  (Nous remercions vivement les familles qui ont été charmantes et à la hauteur de nos attentes et nous vous remercions particulièrement pour leur sélection et l'excellente organisation des séjours. Nous avons parlé de Daily English autour de nous et j'ai donné vos coordonnées à plusieurs de nos connaissances.)
Sophie Le B, mother of Maëlle, age 16 and Camille, age 18 3/5/2015
View more testimonials (in French) of our clients (click here)
Daily English declares the homestays to the Direction Départmentale de la Cohésion Sociale en charge de la Jeunesse et Sport.
Organisation Number  034ORG0536 

Verifiable with the DDCS of Herault 

The only specialist in immersion holidays in qualified English families with children in France.

Constant contact with our English families whom we know very well.

The Director is involved in the middle of each stay to monitor the quality and the satisfaction of the young students.

Bilingual - the director is completely bilingual, which facilitates communication between clients and families if needed.

Available 24h/24h during homestays on 04 99 65 21 63 or 06 18 16 01 00, if you need us, you can contact us at any time during the stay of your child.

Qualified to teach English

Experienced in communication

Accustomed to working in organisations that have an EXEMPLARY QUALITY SERVICE

Understanding of the needs of parents and children

We contact you, the parents or guardians, after each homestay to verify your satisfaction and the quality of our services.
Daily English
SAS
R.C.S. Montpellier : 808 517 155
Siret : 80851715500012
N°TVA FR 32808517155
Assurance Responsabilité Civile Allianz Iard
N° 54743182
Address:
87 rue de Richelieu
75002 Paris
Daily English Head Office:
Le Carré d'Assas
166 rue Jeanne Demessieux
34000 Montpellier
Tel : +33 499 65 21 63
Monday - Sunday 9h-20h30
Or: +33 618 16 01 00