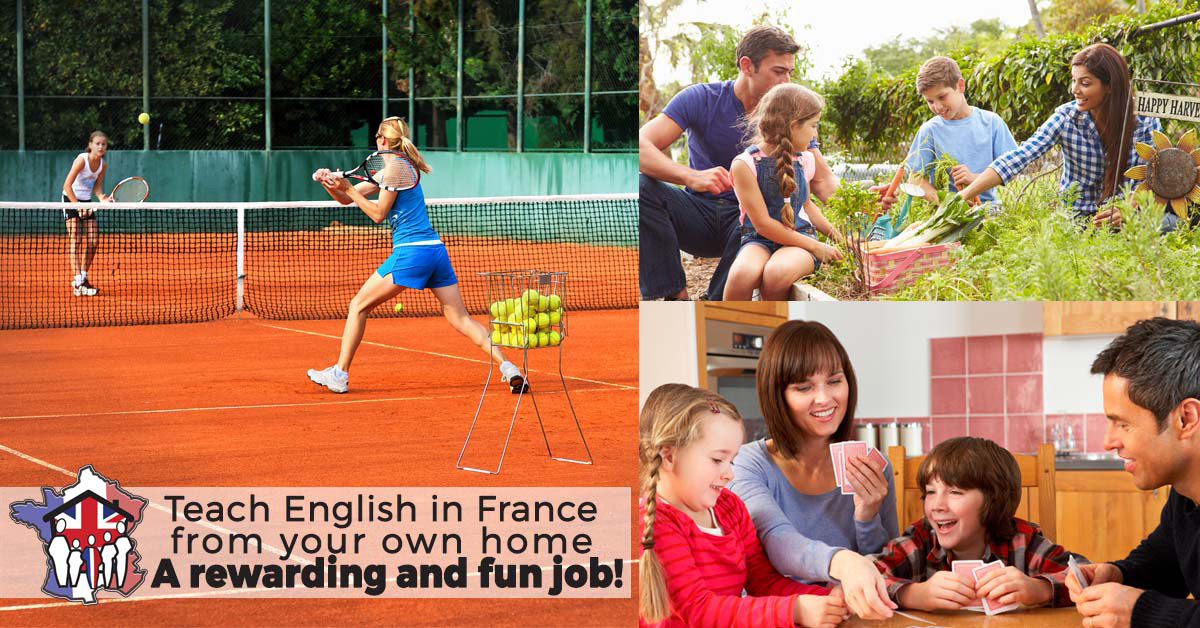 Daily English is an organisation created by Sally Cornan, specialised in teaching English to children and teenagers in France, through the immersion of students in the English language and culture during homestays in native English-speaking families. For many years we have been operating in the educational tourism industry and our goal today is to allow children, teenagers and adults to spend one to four weeks in an English-speaking family, in total immersion, in order to help them learn in the most natural, enriching, and fun way possible.
The way this program works is the following. Students, along with one to three other students, are placed in carefully vetted families. They live, communicate and take all their meals with the family, have from one and a half hour to two hours of English lessons a day with a qualified teacher from the family, and during the afternoon, everyone participates in a fun activity meant to help the students learn in an enjoyable way and create a bond between them and the host family. The students live as if they were English themselves, but in France.
We are looking for families who:
Are living in France, or the United Kingdom, or Mallorca.

Come from an English-speaking country, are native speakers and have children who also speak English fluently, we also consider families with children no longer at home.

Have one or both adults of the family qualified to degree level of above, or with a TEFL certification (Teaching English as a Foreign Language), who are comfortable supervising minors during the activities they offer.

Have a certain quality of life favourable to welcoming students.

Meet official requirements of safety, hygiene, location, and accommodation.

Are able to offer daily activities to entertain the guests and help them learn in an enjoyable way.

Must pass the verification of licenses, judicial records, insurances and other legal documents.

Pass visits and interviews on a regular basis to make sure that they comply with French and European regulatins as well as our code of ethics.

Show motivation, experience, and sociability.
Reasons to work with us:
We offer regular work opportunities during the holidays, with the advantages of working in your own language, with your family, from your home, and according to your availability. We are flexible and ready to work with you, as partners.
We offer the possibility for a good pay, as well as security. You get paid before the students arrive in your home and don't have to spend extra during the homestays, we cover all the costs.
We provide guidance and help so that you can become the best host family, as well as resources for your lesson plans and the activities you can do. We also provide you with 24 hours a day and 7 days a week assistance during the stays, so that you are never left alone with an issue. We insist on a very detail-oriented style of management where you never feel abandoned, where we are in a partnership. To us, you are not a number or a random family, you are treated with care, detail and attention.
We speak French and English, which allows communication between you, the students' families and ourselves to be much easier and more efficient.
Before a homestay is booked, we offer personalised council to the student's family and your own to make sure that your guests will fit well with your family and not disrupt your family's life. Plus, you get to know about your students before they arrive so that you can prepare for their arrival.
Welcoming students with us is fun and rewarding: you get to teach English in France, with your family, teach about your life, culture, heritage and traditions, and give your students a new exceptional experience, which also improves their level and confidence in a fun way.
We are an ethical company that complies with all French and European laws in educational tourism. Plus, we are a recognised company and we are recommended by many host families and students as well. We also believe in investing to attract customers and give you more and more opportunities.
We take care of our families and make sure that they too have a great experience, not just the guests.
Working with us is a great opportunity for your family as they also enjoy the daily activities that are offered in the students' stay. It is great occasion for your children to bond with other kids their age, make new friends, and have a great time.
Our main objective is to provide a great experience for students, learning, using and communicating in a foreign language, but also for host families. Choosing Daily English when you decide to teach English in France is choosing professionalism, experience, quality and satisfaction.